House in Bussum, The Netherlands

east of Amsterdam
Available Summer 2011 for LONG LET
Also listed on Sabbatical Homes Website
End-of-terrace house on quiet one-way street in the centre of Bussum, east of Amsterdam, in the region of
Het Gooi famous for the lake reclaimed from the sea and surrounding nature reserves.
Vincent Van Gogh's widowed sister-in-law and her young son moved here after Vincent and Theo had died. They lived in a house in Bussum.
Rustig hoekhuis in Bussum centrum 90 sq metres dichtbij A1, Naarden-Bussum en Bussum Zuid treinstation
The house is just over 100 years old.

A one-way street runs in front of the house. Parking permit is very affordable.

The windows are very big, all the way to the ceiling, letting in plenty of natural light, a special feature of the house.

The newly fitted modern kitchen contains a new combination boiler for hotwater and central heating, Whirlpool dishwasher, Bosch gas cooker and electric oven.

The newly renovated bathroom has floor heating, owerful shower and generous bathtub (fits 2 people), and new washing machine. One guest pronounced it "luxury bathroom."

Going up the painted stairs under natural light from the roof windows, you can see the Czech oak floors throughout the first floor.

Above the three bedrooms is a ladder to the attic with two roof windows which can be used for guests or storage.

It's April 2006 and the bulbs planted just before Christmas have all produced beautiful flowers.

First the purple crocusses braved early March. Next the daffodils in white and yellow appeared. Finally, the regal tulips stretched their stems.

Spring time in the Netherlands ---- flowers for Avalon. The current tenants moved in summer of 2006 and have lived here ever since.
One of the few villages with convenient public transportation, the Dutch village of Bussum has a population of 37,000
and two train stations, Naarden-Bussum and Bussum Zuid, both on the direct train line to Schiphol Airport, Amsterdam,
and Utrecht. Bussum lies in the heart of the famous nature reserve of Het Gooi ('t Gooi) and Gooimeer lake near Amsterdam.
A stone's throw from Naarden Vesting where the last Dutch prince got married, Bussum is surrounded by forests, fields,
and parks for running, cycling, horse-back riding, hikes, and long walks.
Where else can you get fresh air, no airplane noise, and yet be so close to where you need to be?
Situated in a very quiet one-way street near shops and amenities, this hoekhuis with 90 square meters of living space is perfect
for a single professional, working couple or a small family. [Nonsmokers only.] Within a couple minutes walking distance
are a popular school, supermarket, and a famous local cinema known for showing foreign movies.
Location and how to get there:
Bussum, near Naarden, Hilversum, and other villages of the Het Gooi (nature reserve)
A minute drive to A1 motorway (15 min drive to Amsterdam)
10 minute walk from Naarden-Bussum train or Bussum-Zuid train stations, where you can catch direct trains to Hilversum, Utrecht, Amersfoort, Amsterdam, Schiphol, and Leiden.
Direct trains to Amsterdam 4 times an hour, 20 min. (less than 5 euros return with 40% discount card)
By bus to Amsterdam: 2 buses, 6 strippen (euro 2.68 one way) and 20 minutes. Bus 111 towards Huizen, change at Gooi Noord hospital to Regionliner 101 to Amsterdam. [Use 9292ov site to check for yourself!]
Bussum (in the middle of the map below marked by a red star), is on the direct train line from
Amsterdam Schiphol airport to Hilversum or Utrecht, or just off the A1 motorway.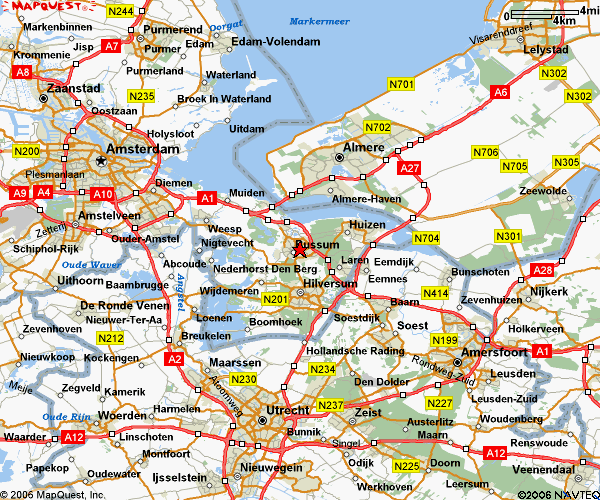 Useful articles about house-hunting in the Netherlands or moving there:
Websites to help you look for accommodation:
Just plain useful:
analyticalQ Dutch links and stories about learning Dutch and getting used to living in the Netherlands
Expatica site - classifieds great for second-hand furniture of expats, Dutch news in English, and useful articles