24 (3 tables of 8) brought the following cultures to this international gathering.
Chinese, Dutch, Albanian, Greek, South African, Japanese, American, Swiss, English, Croatian, and Malaysian.
Distributed to each participant was a slip from the analyticalQ 8th anniversary quiz (4 page pdf) - Match the answer to the question and the question to the answer.
Post-dinner feedback:
My favorites: the squash, the noodles, the shrimp
Least favorite: the smoke! I don't know if I can do it again if they don't make their "smoke free zone" really smoke free. I wonder if the owner would consider putting up a sign on the door: op 21 mei wordt dit restaurant 100% rookvrij vanaf 16:00 uur t/m 19:00 (or whatever times you are planning on....) Or maybe the other Chinese restaurant has a better ventilated-space that could be reserved (I think I prefer the dim-sum options there over the food at Smaak Garant, although they are both good and I like the idea in general, of getting lots of dishes to try....)
I think all of the dishes were nice and delicious, except the ' sweet and sour spareribs' and the 'steamed carp".

The first dishes from our table were great too. " Zui Xie' ' Yu Wan' ' Liang Ban Dou Fu' 'Mao Dou'...
We did had nice time there, only feel a pity that you were so busy and we couldn't really talk. About the dishes, Gert and I both like whole steam fish with alcohol taste, super delicious! And of the two cold dishes we ordered, fish pie is also very tasty. But I know most Dutch don't like crab, so it depends on who are having a meal with you, then choose the most suitable to eat.
I want to thank you also, for the great experience and chance to meet people so varied and interesting! And for the food, which was delicious. Even the first entry, the main dish tasted interesting and maybe some sauce can go with it, to make the eating easier. I liked the fish very much, and the scampi (maybe I ate the skin which I shouldn't have, later I did it right. Also the tjap tjoy, with beef I liked much. I liked the sharp tasting tofu, though I had to get used to the consistency. Maybe there can be more sharp dishes? And maybe more vegetables (like the bamboo shoots -or how do you call them- which are often in Tjap Tjoy?). Oh yes, these green things like courgette that were there, I liked also very much. And maybe lychee's-how do you call thèm- or something 'fresh' or so as closing dish.
These suggestions are only for perfection of something already wonderful!
It was a nice dinner. I enjoyed very much. Every dishes are fine. If I say something, I liked fish very much.
We are so enthusiastic about every dish, that we have planned at least two other visits to the restaurant. A complete surprise!
Some memories:
One guest, who arrived early, grew in amazement at the nationalities and backgrounds of the others. He exclaimed, "This is like -- one giant blind date! How did you do it?"
Indeed it was like a giant blind date because most people didn't know others. We all came to eat. That was the common goal. As to celebrating the 8th anniversary of analyticalQ.com -- that was just a good excuse to get together.
Another guest took a walk around the restaurant and admired the tanks full of freshwater fish. When the steamed fish arrived, he recognised it from the tank earlier. Unlike other guests, he couldn't eat it. Too bad!
Bon Journal
analyticalQ 8th anniversary
24 friends celebrated the 8th anniversary of my first website, analyticalQ.com, the journey to greater self-expression, with an unforgettable Chinese feast of authentic dishes from the Wen Zhou region of China: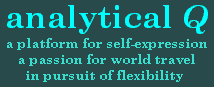 Wen Zhou cuisine from China at the "Smaak Garant" Chinese restaurant in central Utrecht:
Thursday 15th March 2007 @ 8 PM
"Smaak Garant" Restaurant
Wen Zhou Mei Shi Cheng
Rozenstraat 13, 3511 BV Utrecht
Tel: 030-231-4674
open every day except Saturdays from 4 pm
I like the owner Mevrouw Wang, who is very kind and friendly, unlike the waiters at the Cantonese Chinese restaurant in Utrecht, the fourth largest city in the Netherlands. Her sister owns a Chinese grocery store nearby. Her husband, the chef, works in the open kitchen where you can see him maneuver the huge woks and steam cages on big fires.
I have enjoyed two sumptuous meals in this smoke-free* restaurant already. Both times I've only seen Chinese people eating there, speaking in regional dialects, typically arriving late ---- after 10 pm. It reminds me of how Chinese families and friends share the beloved ritual of eating together, around a circular table with big dishes in the middle for all to dig in. [*smoke-free until the regular customers arrive after 10 pm. But nothing prevents anyone from smoking beforehand! Which is unfortunate, of course.]
The owner, mevrouw Wang suggested the following menu for a minimum of 10 euros per person including tea and rice for a table of 10. Cash is king. A table seats maximum 12 each. [Hint: they have live fish, crab, and lobsters swimming in their freshwater tanks!]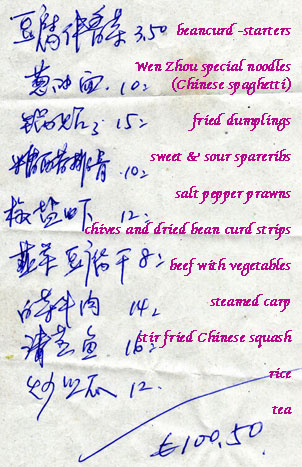 Where is it? Very central, just behind Bijenkorf department store minutes away from the Vredenburg concert hall. After the parking garage, you will see an orange and yellow neon sign in Chinese. It's a short walk from Utrecht Centraal station. [Directions: From Utrecht Centraal station, walk east past the Vredenburg concert hall on your right and turn left at the first junction where you see the Bijenkorf and Best Western Hotel/Kentucky Fried Chicken. Turn right immediately to a diagonal street accessible only by foot or bicycle. First you'll see a big parking garage. Next is the Smaak Garant restaurant which is before a pub.]
This page was first used as an invitation and announcement. After the dinner, which lasted several hours, I asked for feedback (left). Thanks again for coming to celebrate. Thanks to MeiMei & Christine for the card and flowers, Liesbeth and Kas for tulips and rose!
Photos, courtesy of MeiMei: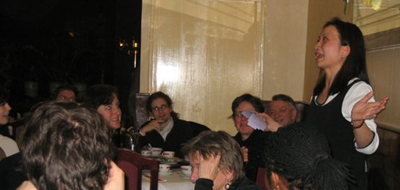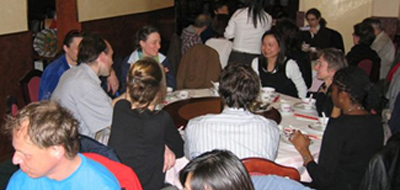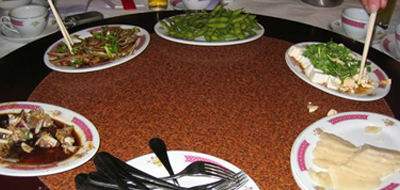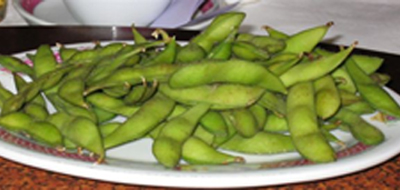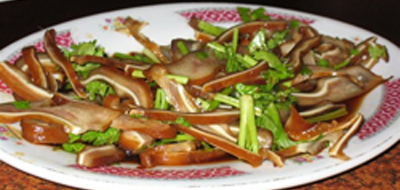 15 March 2007
Related links:
Going out - smoke free? Check Clean Air Netherlands' list of completely non-smoking restaurants, hotels, discos, and more.
"Smaak Garant" means guaranteed taste. The actual name of the restaurant is "Wen Zhou Mei Shi Cheng" which means Wen Zhou (name of region in China) Beautiful Food City.
Answers to the analyticalQ 8th Anniversary QUIZ